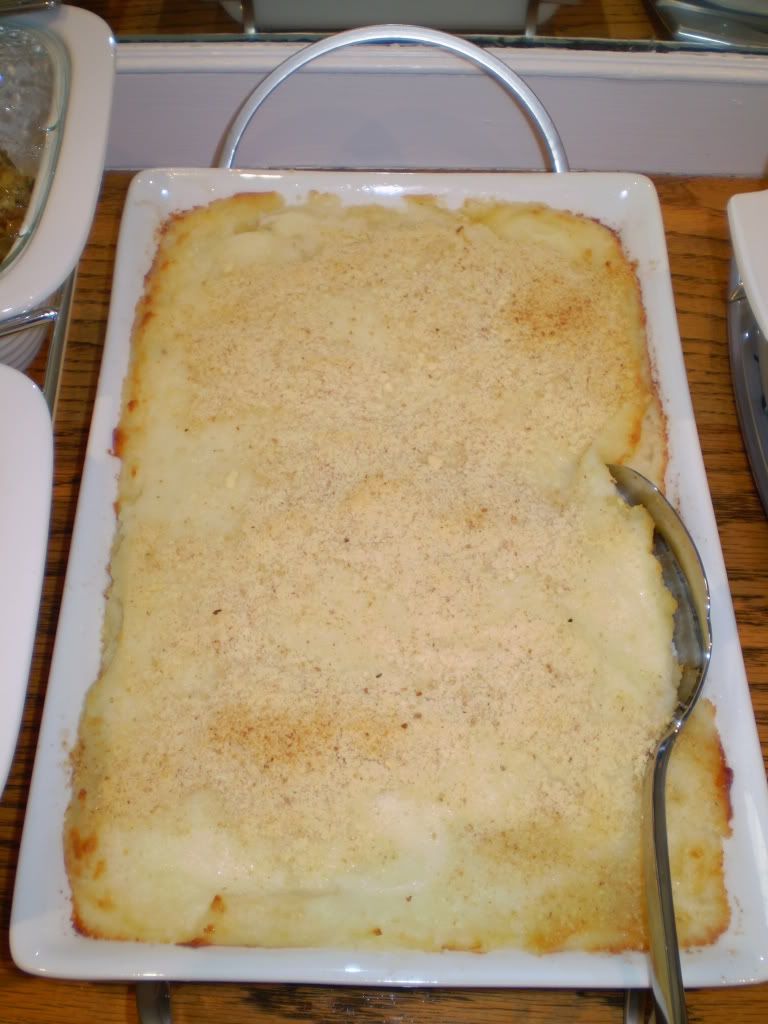 I love potatoes. I love love love mashed potatoes. Add two types of cheese and I am in heaven.
So when I saw
this recipe
from
Giada
Di
Laurentiis
on the Food Network web site, I knew this was our Thanksgiving potato dish.
While the recipe says you can prepare up to 6 hours prior, I actually prepared the potatoes the night before and added the
Parm
and bread crumb topping right before I put the dish in the oven.
It was definitely a tasty dish. The only changes I would suggest were adding a bit more Parmesan cheese to the potatoes as well as adding some roasted garlic. But then again, I like garlic in just about every type of food I eat.
And there were enough left over for Mashed Potato Pancakes (post on that dish coming later today).
Baked Mashed Potatoes with Parmesan Cheese and Bread Crumbs
Ingredients
1 tablespoon butter
4 pounds russet potatoes, peeled, cut into 1-inch pieces
1 cup whole milk
1/2 cup (1 stick) butter, melted
1 1/2 cups grated mozzarella
1 cup freshly grated Parmesan
Salt and freshly ground black pepper
2 tablespoons plain dry bread crumbs
Directions
Preheat the oven to 400 degrees F.
Coat a 13 by 9 by 2-inch baking dish with 1 tablespoon of butter and set aside.
Cook the potatoes in a large pot of boiling salted water until they are very tender, about 15 minutes.
Drain; return the potatoes to the same pot and mash well.
Mix in the milk and melted butter.
Mix in the mozzarella and 3/4 cup of the Parmesan.
Season, to taste, with salt and pepper.
Transfer the potatoes to the prepared baking dish.
Stir the bread crumbs and remaining 1/4 cup of Parmesan in a small bowl to blend.
Sprinkle the bread crumb mixture over the mashed potatoes.
Recipe can be prepared up to this point 6 hours ahead of time; cover and chill.
Bake, uncovered, until the topping is golden brown, about 20 minutes.
Print this post