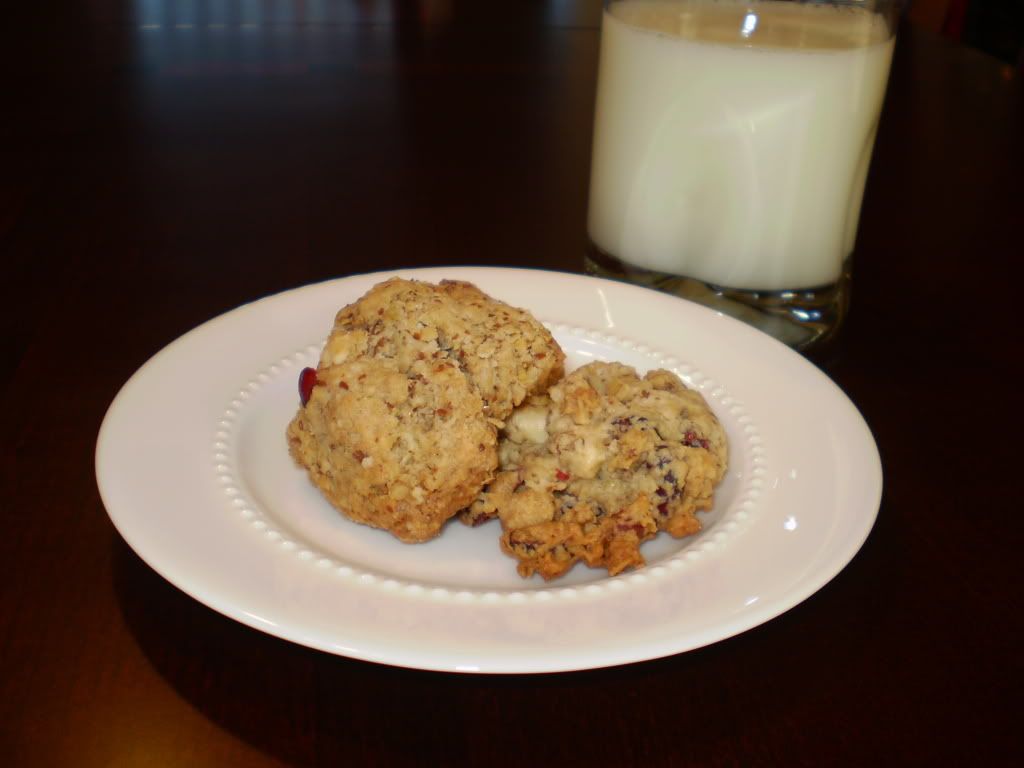 I am so glad that the pumpkin season is almost over. That means it is time for the cranberry to shine in baking and cooking. And to start off the cranberry season, I made some of the tastiest white chocolate cranberry oatmeal cookies ever.

Using a recipe found on Fresh from Cate's Kitchen (click here to view Cate's blog), these cookies barely lasted 56 hours in our house.

If you are looking for an easy and incredibly tasting cookie, this is the one for you.

White Chocolate Cranberry Oatmeal Cookies
Ingredients
1/3 cup sugar
1/3 cup packed brown sugar
1/2 cup butter, softened
1 large egg
1 teaspoon vanilla extract
1/2 teaspoon cinnamon (I used freshly grated nutmeg instead)
1/2 teaspoon baking soda
1/4 teaspoon salt
1 cup all-purpose flour
1 1/2 cups quick-cooking oats (not instant)
3/4 cup dried cranberries
6 ounces white chocolate chips

Directions
Preheat oven to 350 and line two baking sheets with silpats or parchment paper.

In a small bowl, whisk together flour, cinnamon, baking soda, and salt.
In the bowl of a stand mixer, cream the butter with the sugars until fluffy.
Add egg and vanilla and mix well.
Stir in oats, flour mixture, white chocolate, and cranberries and mix until combined.
Drop by heaping tablespoonfuls onto cookie sheets and bake for about 10 minutes, until just beginning to get a little color.

Print this post